2022 : Latest technology trends in hospitality
It is critical not to keep track of the latest technology trends in hospitality. With changing times and changing demands of new-age travelers, this industry has become highly competitive, and those who do not adapt are definitely left behind. Especially after more than a year of disruption, human touch assisted by technologies is more in demand than ever. Keep your finger on the pulse; in this article, we've compiled the top hotel technology trends that hospitality customers expect for 2022.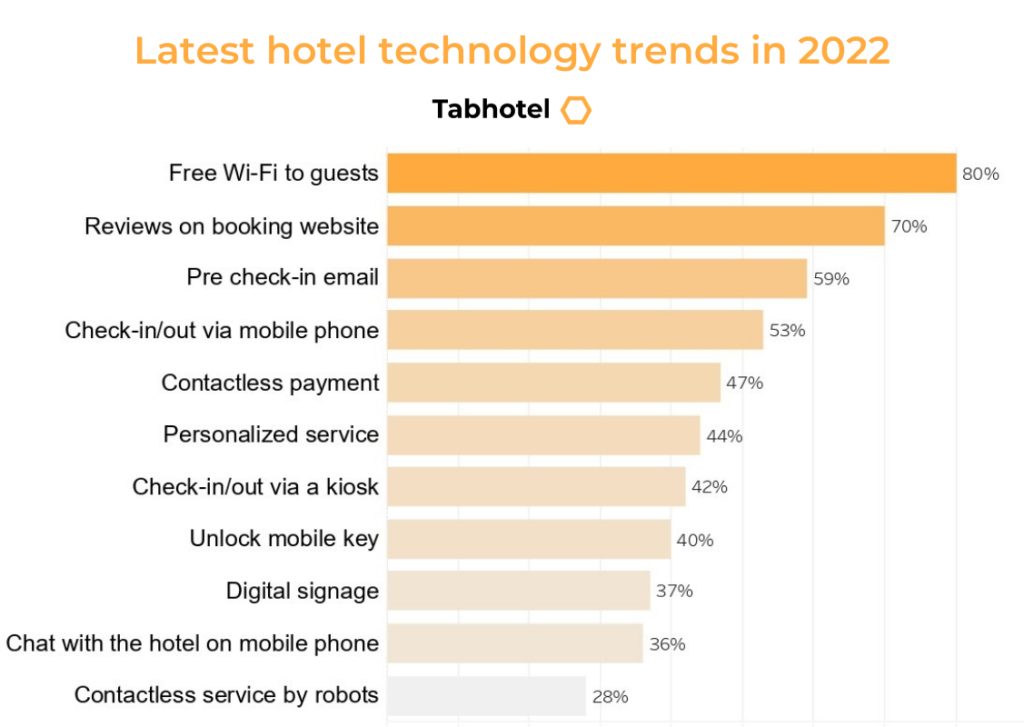 The hotel offers free Wi-Fi to guests (80%)
Nowadays, hospitality customers consider wifi a must-have when choosing a hotel for their trip. Furthermore, they want the wifi connection to be seamless without any interruptions. This preference explains why hoteliers invest more in wifi infrastructure so that their guests can share their trip with their friends or do business during their stay.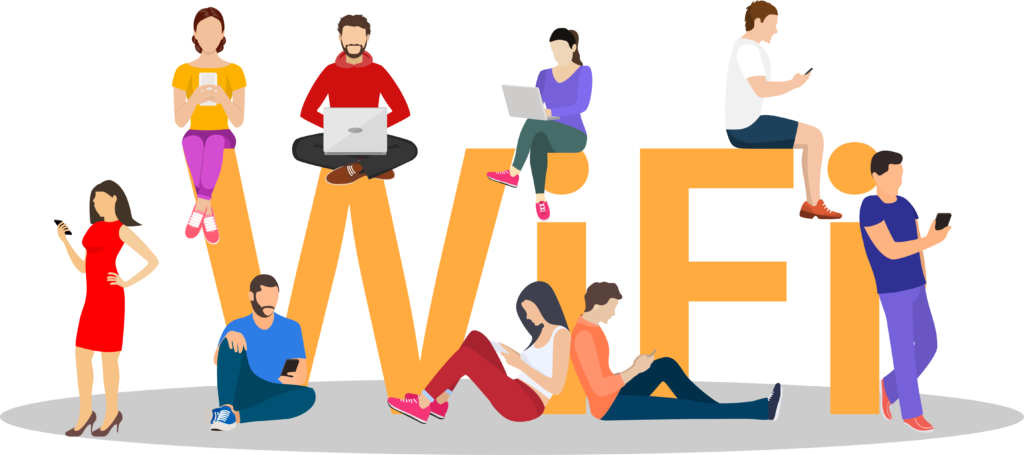 The hotel has positive reviews and high ratings on third-party websites and/or social media (70%)
It's vital for you to manage your hotel's image on digital platforms because the most reliable indicator of a hotel's reputation is often found in online reviews. According to a recent study by Barclays, hotels that pay attention to their online reviews will earn an extra £3.2 billion in the next decade. 
96% TripAdvisor users consider reviews important when planning trips and booking hotels, and over half of them won't book a property that has zero reviews.

TripAdvisor
Lastly, it's essential to keep in mind that just because you are a 3-star hotel doesn't mean your rating will be lower than a 5-star hotel. Instead, people often balance their reviews based on their expectations and real experiences with every aspect of the hotel. Obviously, the technology levels of your hotel matter because they directly influence the stay and the final review score on digital channels, also through word-of-mouth advertising.
The hotel texts the guest important information about his reservation before his stay (59%)
Imagine buying a simple t-shirt online, and you never get any email or SMS from the seller. Definitely, you start to suspect, right? It works the same for any online purchase, especially booking a hotel.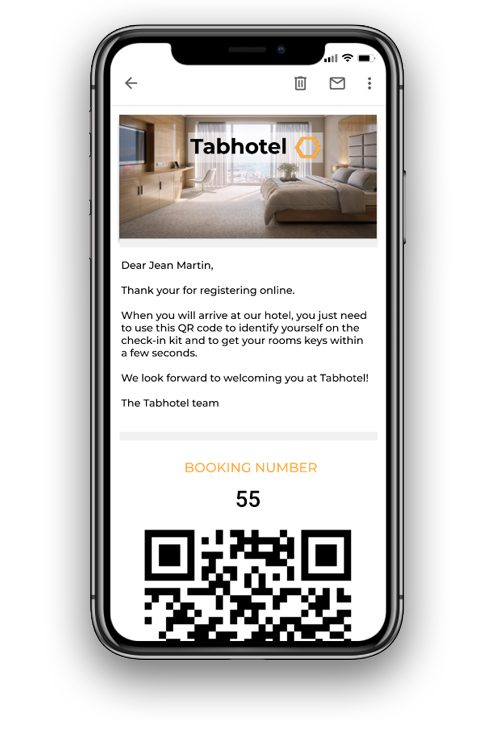 A pre-check-in email that confirms a guest's reservation before his arrival is a precious touch-point between you and your customer because it's the first time you message him in his guest journey. So make sure that your hotel booking confirmation email is brief but inspired. 
Ability to check-in/out on their mobile device (53%)
Guests don't want to wait. This is why almost 90% of travelers prefer to manage their booking on their mobile without having to interact with the staff at the front desk.
With mobile check-in, your customers will check in with their phone, tablet, or even PC before arriving at the hotel, which avoids unnecessary contacts, queues, and other administrative procedures. This seamless process just takes a few minutes, and the guest data will be stored automatically in your PMS.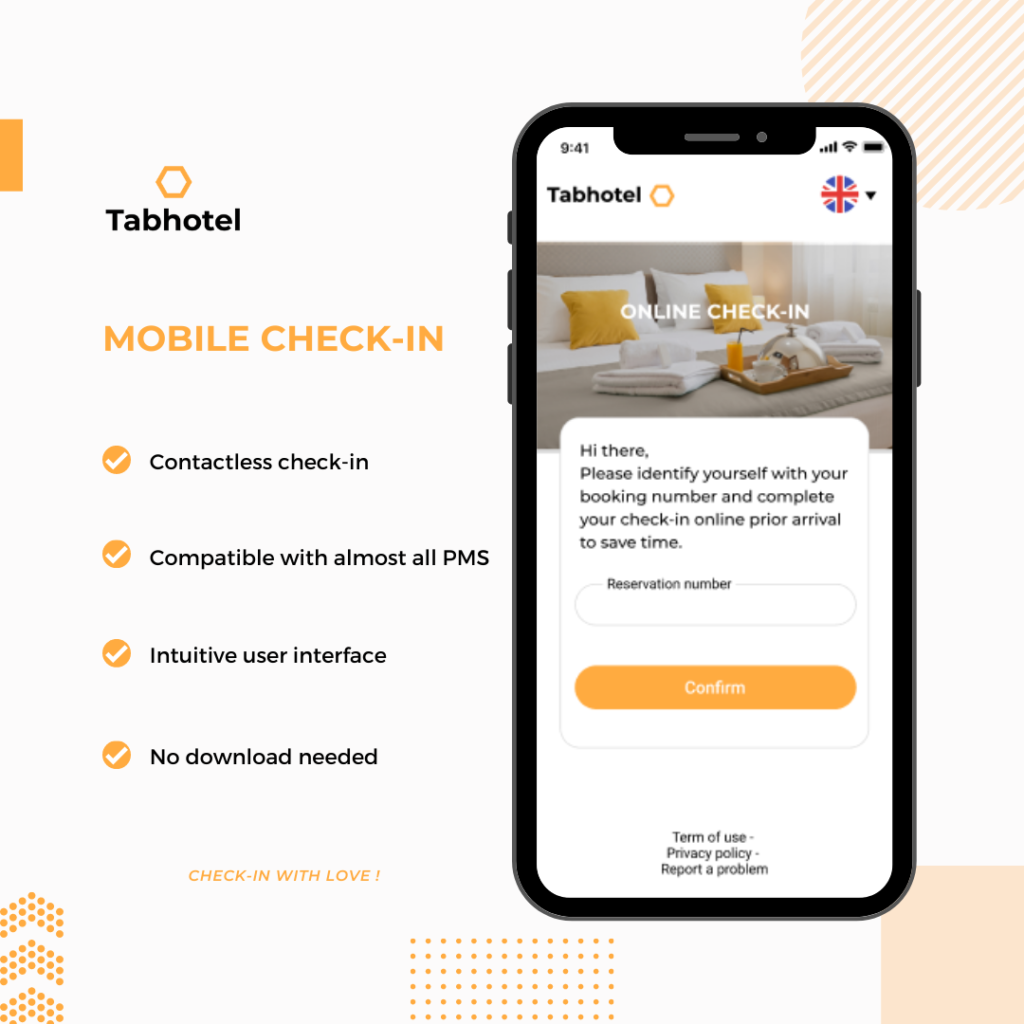 🚀 Why should you choose Tabhotel's mobile check-in? Clickxhere
Ability to check-in/ check-out via a kiosk (42%)
The same as mobile check-in, nowadays, hospitality consumers look for automated check-in kiosks as a must, not a perk. Maybe you already know why. Just simply, after spending hours traveling on the road, they don't want to wait in a long queue to complete their check-in. 
For you, as a hotel operator, the ultimate goal is efficiently providing guests with a high level of service. That service starts with a quick and easy self-service check-in experience in the lobby. This is why hoteliers have increasingly invested in check-in kiosks to improve guest satisfaction, operational efficiency, and overall revenue. 
❓ How can it be possible? 
Practically, self-service kiosks have been shown to be more efficient at upselling and upgrading revenues for hotels, as well as encouraging the use of credits cards for contactless payment. 
Moreover, in many hotels, after implementing self-service, they have found great solutions for human resources by reallocating the labor force to other areas where labor consistently falls short.
The hotel provides personalized service based on guest purchase history (44%)
A well-done personalized service always starts with good guest data management. Nowadays, every hotel has its PMS, but most are still under-exploited. In fact, with this vast database, you could use it to customize your reception, or better, personalize the check-in kiosks/ app with upselling options.
When it comes to personalized upselling, all you need to focus on is selling the RIGHT PRODUCT to the RIGHT GUEST at the RIGHT TIME. Keep in mind that not every customer is a good fit for the same upselling, so don't be « ordinary » with this revenue-generating opportunity.
🍾 A bottle of wine for a couple celebrating their wedding anniversary, room upgrading for a wedding group, birthday gift for a guest's birthday. These outstanding services help you make the most of your available products/ services and boost the guest experience to a fantastic one. Needless to say, after this WOW effect, your guests are likely to share their experiences on social networks, best reviews on booking websites, or simply recommend your hotel to their friends. This is again boosting your online reputation and word-of-mouth ads.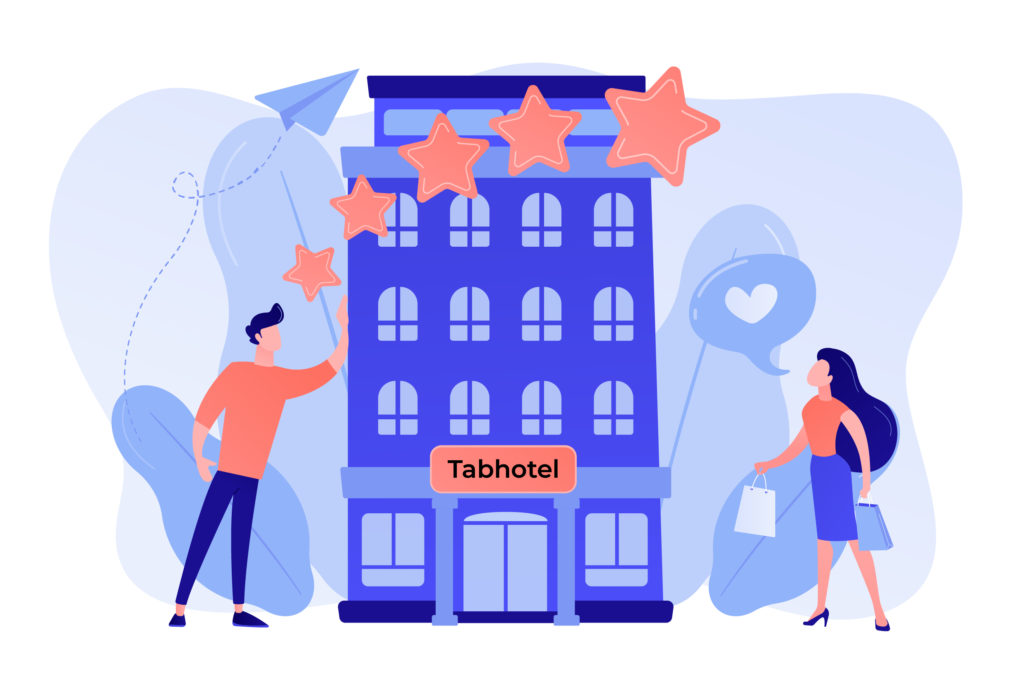 Tabhotel offers the most flexible upselling solution during online check-in or check-in at a kiosk. That being said, with our intelligent solutions, you are 100% free to design your upselling/ upgrading depending on your guest preferences, the structure, and the image of your hotel.
The hotel offers contactless payment for your stay (47%)
Today is the era of contactless experience. Hospitality experts assumed that even in post-Covid 19, adopting fully contactless properties is indispensable for every hotel. In 2022, hospitality consumers are looking for hotels that offer seamless digital experiences for their stay, especially, quick and professional check-in, check-out as well as contactless interaction with hotel staff.
"75% of visitors would not report their problem since they were afraid of face-to-face communication. Instead, they prefer to contact hotel staff via their phone or order supplement services (upselling) at the self-service kiosks." 

Survey by Medallia Zingle.
Digital signage (property information, airline updates, etc.) (42%)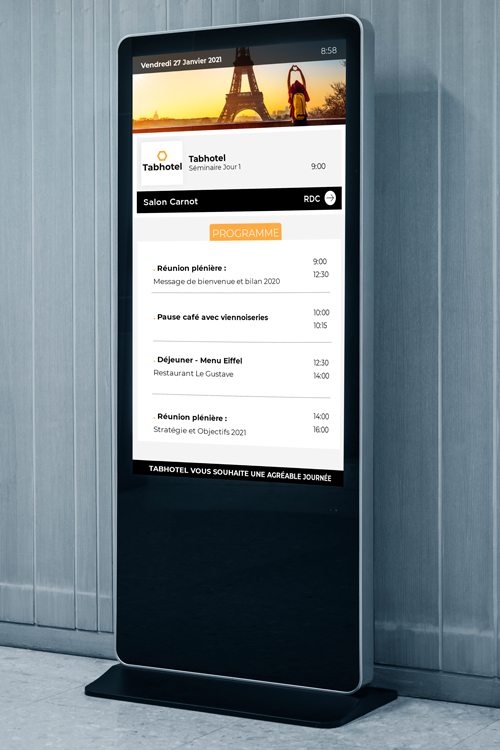 Hospitality consumers want to have information rapidly at their fingertips and become impatient when forced to wait in line just to ask simple questions: Which is the best restaurant nearby? Do you know where we can exchange the money? etc. This is when digital signage comes in.
With digital signage, you can easily drag and drop the content of your choice to capture the attention of your guest and help them to find the ways in your hotel, such as property information, restaurant's menu, airline updates, etc. 
Our recommendations for digital signage:
Hotel information (restaurants, menus, wayfinding, etc.)
Tourist attractions nearby 
Weather updates
Information about traffic and transport
Favorable reviews on the booking websites. 
Event schedules
Updates on social media
Emergency alerts
Advertisements
Unlock the guest room using his mobile phone (no keycard is required) (40%)
Mobile Key or Digital Key technology allows guests to unlock their hotel room via an app on their smartphone.
How does Unlocking Mobile Keys work?
First, guests need to download an app. Once he arrives at your hotel, a "key" (an encrypted code) is sent to his phone along with a message telling him which room number he'll be staying in. Then, he just needs to hold his smartphone close to the door lock or to touch a button on the phone app. Voilà-it's unlocked!
Contactless service by robots (28%)
In the hotel industry, sometimes we feel like living in the future. Why? Because many of the large hotel groups have started adopting robot technology to improve the guest experience. In fact, a few have been testing it for some time and have found a lot of success. 
Hotels can use robots for different business goals, especially contactless services. They can be used to assist guests in the check-in process or help them to find ways in your hotel.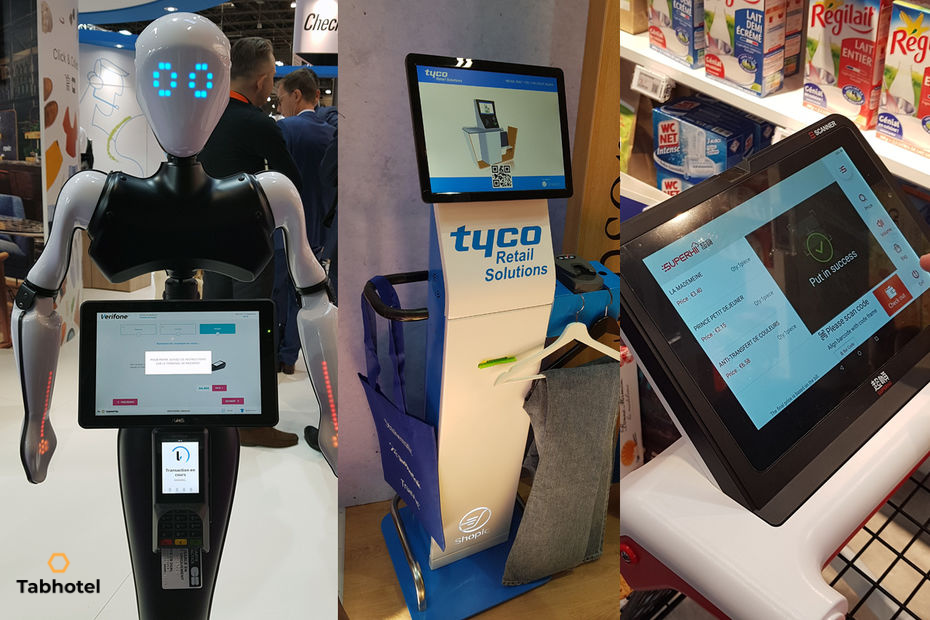 Conclusion
The hospitality industry has always been one of the biggest adopters of new technology, and it keeps changing year after year. So, it's imperative for you, as a hotel operator, to stay abreast. 
Not to mention, in this industry, customer satisfaction is the name of the game. So start by picking the relevant techs on the list above to update your hotel's technology. Of course, if you want any advice on your project, do not hesitate to contact us. 🤗